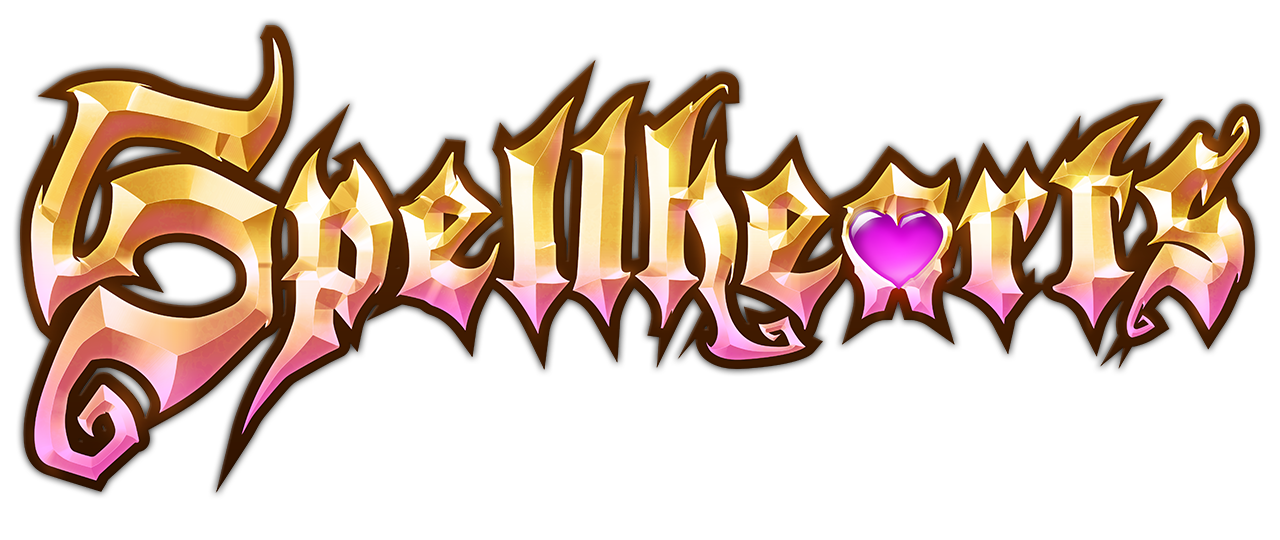 Play as a novice warlock in a fantastical magic town and receive quests from an array of sexy NPCs (and attempt to court them). If you enjoy dating sims, adventure games, adult content, parody/comedy, fantasy settings, and the occult, you will indeed have a good time with this unique casual game.
Spellhearts is an erotic adventure and dating simulation game where you assume the role of a novice warlock learning magic in a fantasy town of witches.
Here, you must solve puzzles, learn spells, overcome monsters and challenges, and go forth on various quests to please the witches and townspeople.
The player earns the opportunity to court the beautiful women of the town, but getting close to witches can be a dangerous affair.
If you are looking for a high-quality fantasy world with
a humorous and sexy story, HD art and animation, fully voiced characters, puzzles, secrets, and detailed sex events with the drop-dead gorgeous women of witchcraft, this is the game for you!
Hallowdrake is an old town secluded in the heart of the Doomwood: a magical place where many members of the land's witches guild reside to hone their magical craft in solace. Many aspiring magicians pass through the town, hoping to get rare insights.
The hero of the story, being a young man coming of age,
is a novice warlock sent on a journey by his uncle to explore
the world of magic.
An array of female townsfolk oddly dominates Hallowdrake, but this is hardly a negative to a young warlock. Somehow, the town's women are also extremely attractive, perhaps by chance.
Perhaps these witches have more to offer a youngster in training than mere spells? Although there is always risk dealing with occult matters, becoming a powerful wizard would indeed lift one out of the life of peasantry.
Maybe the eligible witches of the mystical town can be of service.
A legend also goes that a nearby cave is home to a fearsome dragon who makes quick work of any champion who opposes him.
This is perhaps why the town's women feel quite safe from outsiders, as descending upon it with malice might mean certain annihilation by the great beast. Despite the dragon, the inhabitants seem content and unphased by such an ominous presence.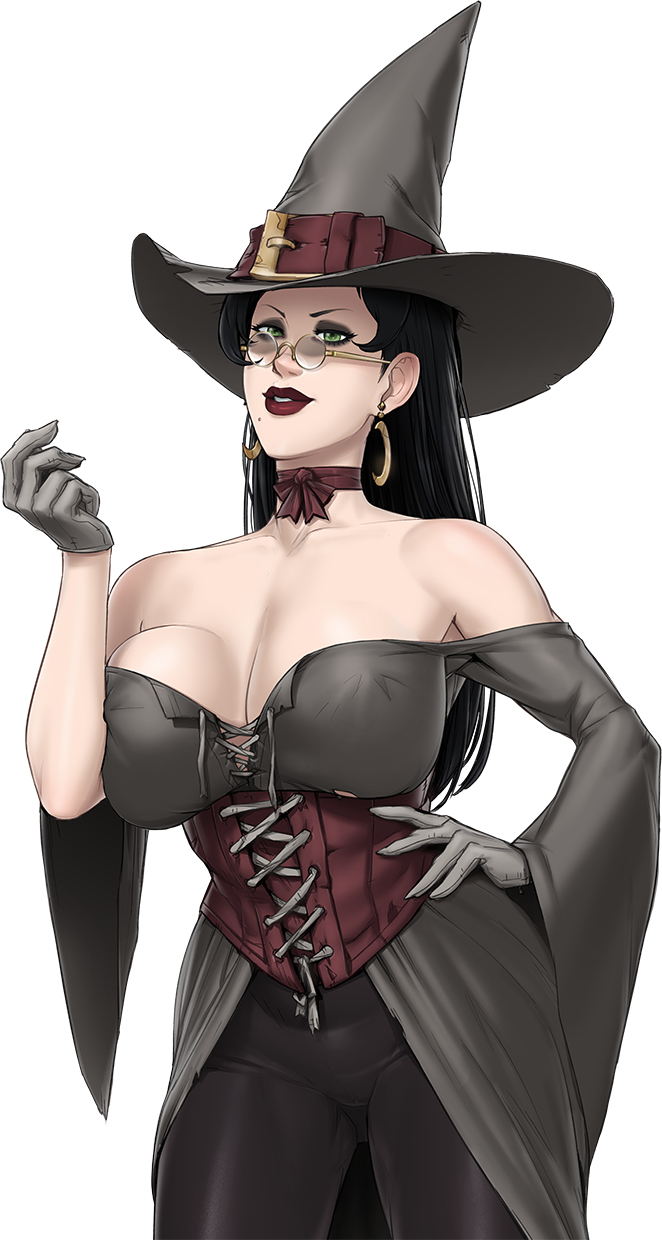 A teacher of magic, Alandra the grey witch is a mature user of spellcraft, renowned for her ability to transform objects and even people. She's become jaded of questing and adventuring and wishes to practice her craft in isolation. Sometimes, she can be found teaching young magicians at the academy at Castle Townbridge, not far from Hallowdrake. Consorting with the likes of inexperienced magic users isn't her favorite pastime, but she can always use the extra gold for her own musings.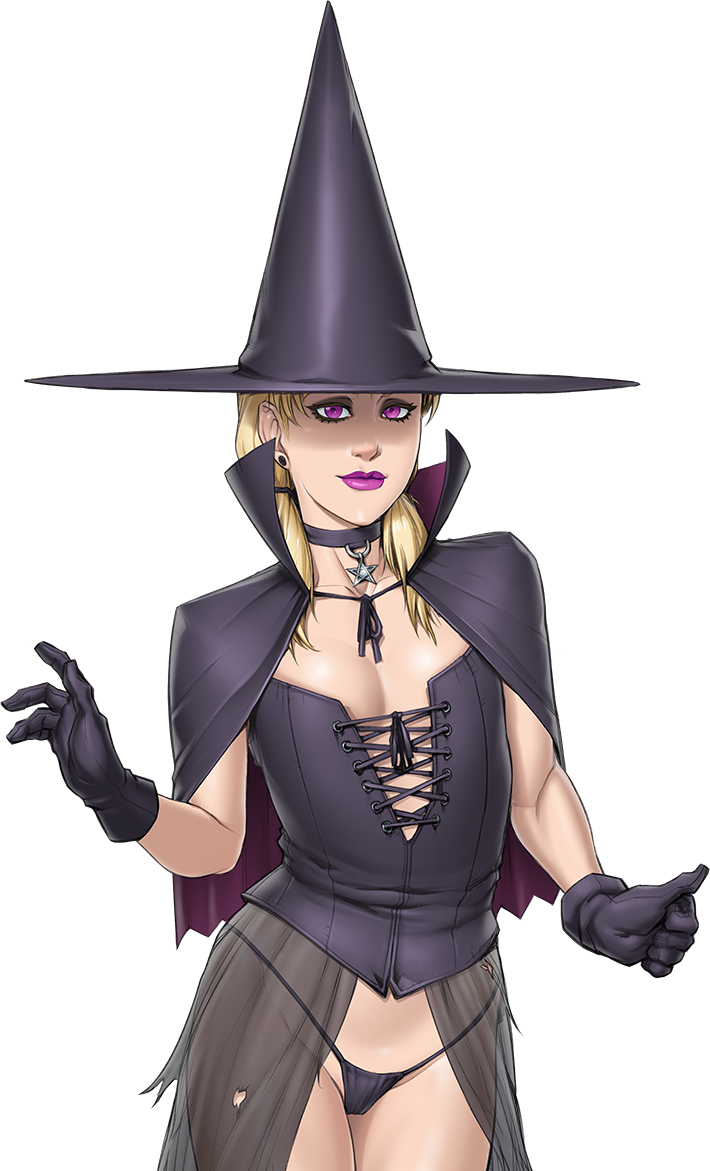 Gretta, a black witch, is among the most promising of her cohorts and has a family of legendary witches and warlocks going back for generations. Currently in the care of her Uncle Bogart (away questing), Gretta is a spunky and often mischievous sprite. Her nubile beauty is apparent to just about every creature that lays eyes on her, and she knows it. She is the perfect combination of beauty and danger, but she is not a mature master of her craft just yet.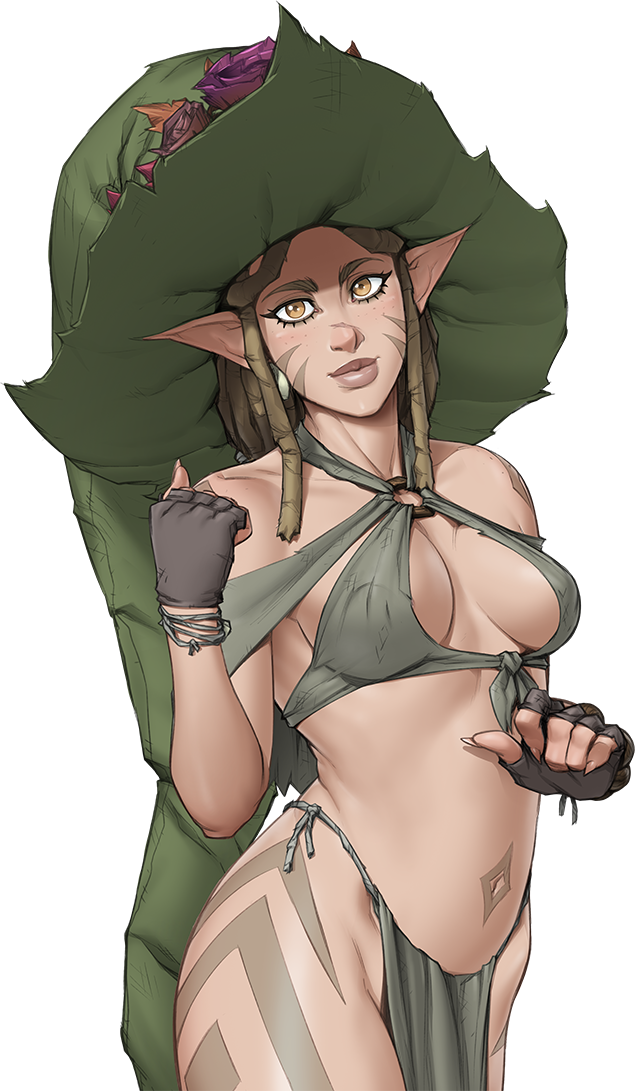 She is a woman of the forest and a skilled Earth witch, making her cottage next to the Doomwood edge ideal. She's an orphaned wood elf who learned the ways of magic from the trolls who raised her. She now resides in Hallowdrake to live away from strife.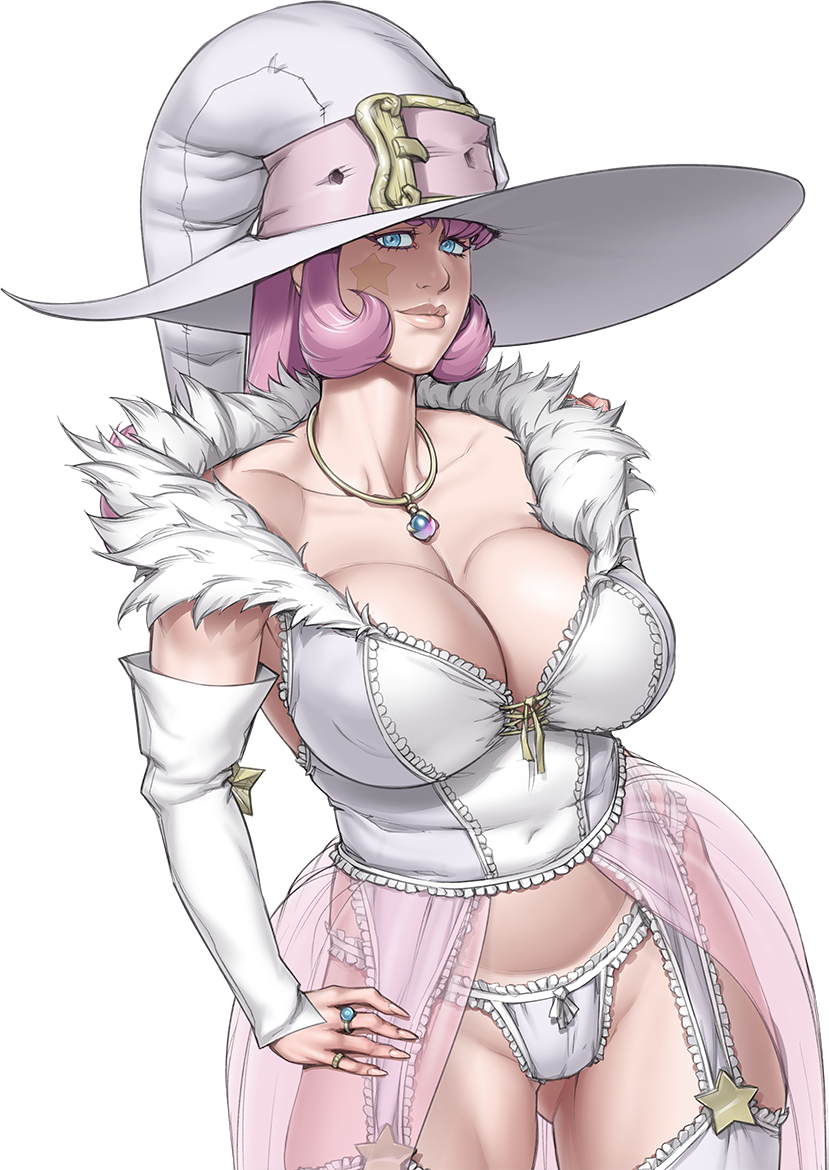 Bellona is a warmhearted white witch with a highly empathetic sensibility to
her personality. She enjoys laughter and folly and uses her charm to diffuse altercations when possible. She would much rather have a tea party than a brawl.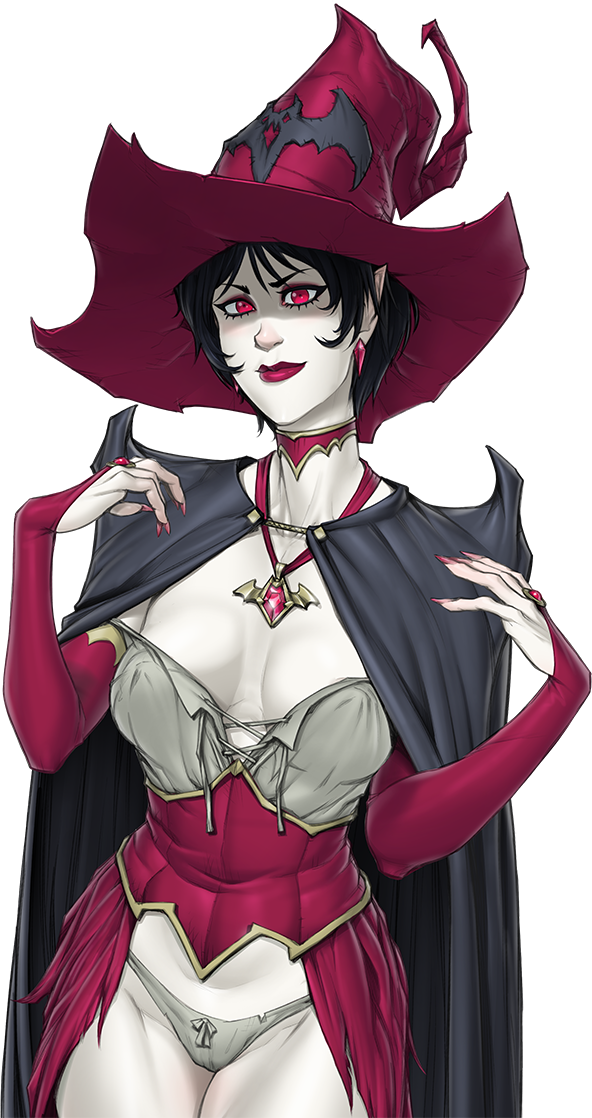 Farina is a vampiric blood witch who is obsessed with immortality and preserving her great beauty. She has undoubtedly claimed the lives of more enemies than any witch in town, for she is as fierce in battle as she is with her magical craft.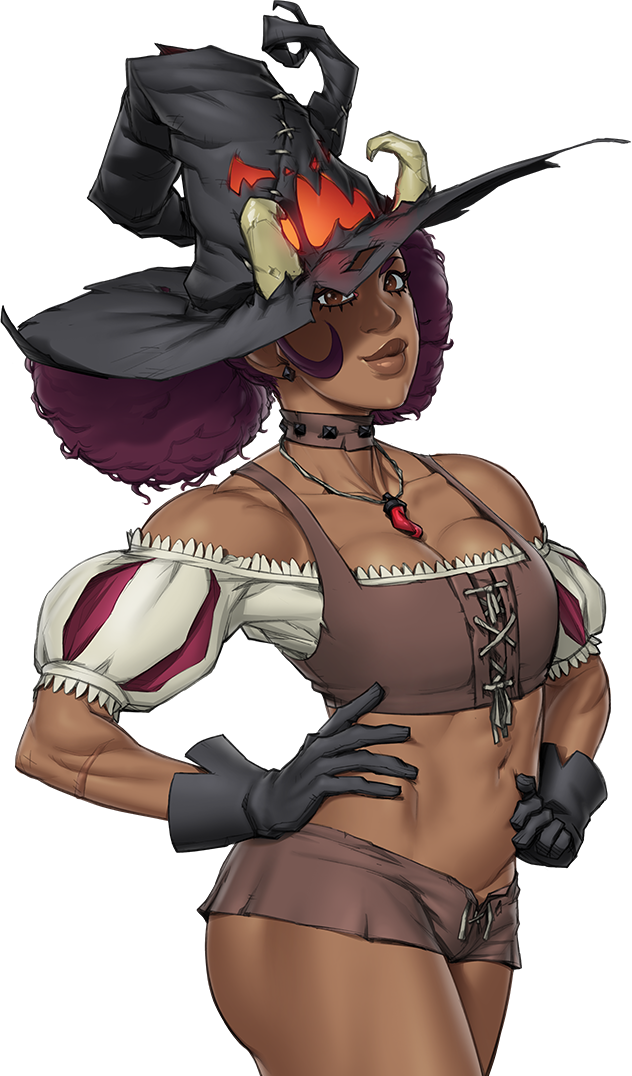 She is a spitfire of a fire witch who speaks and moves a mile a minute with a
knack for destruction. Pepper's chaotic and adventurous nature lands her in regular trouble. While she is often the life of the party, her outspoken and wily ways often leave her with more enemies than friends.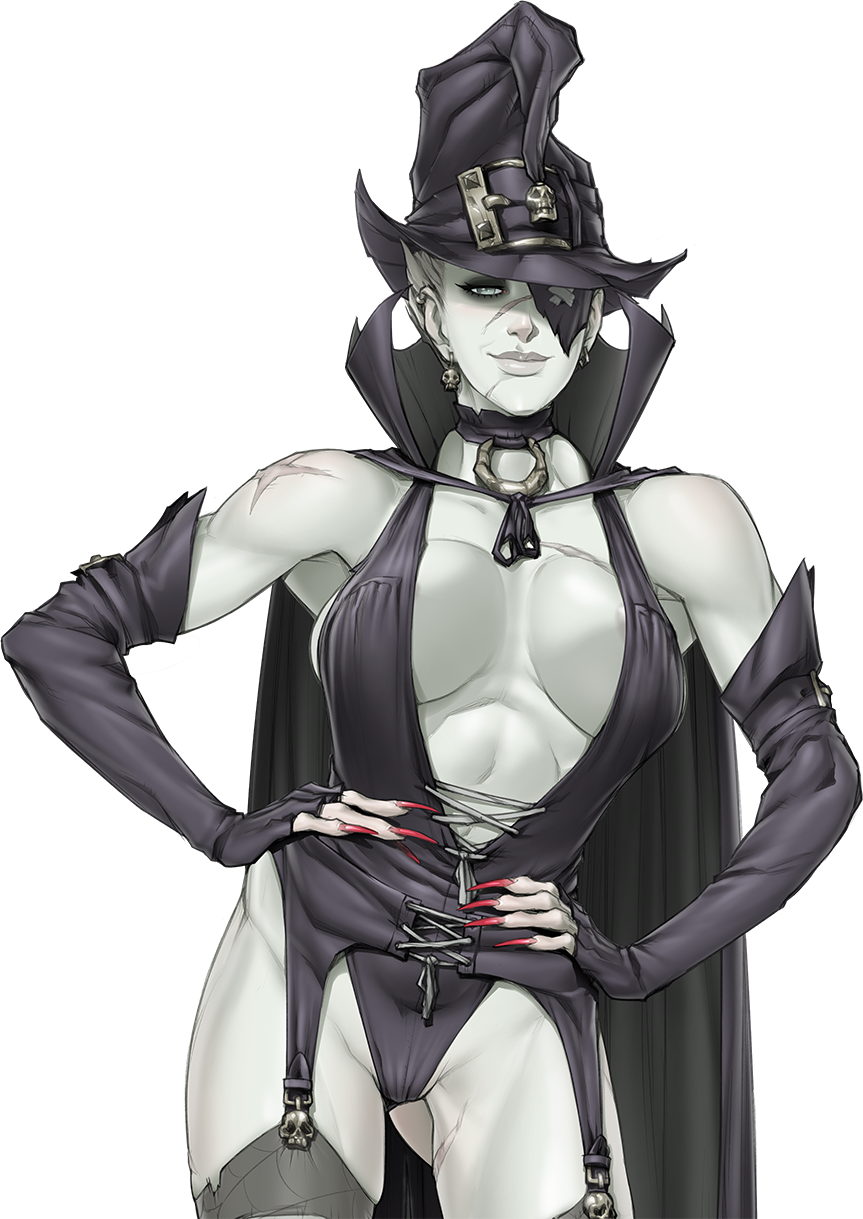 A practitioner of necromancy, this tall and pale creature is the most secretive of the town's witches and prefers to operate in the shadows of catacombs and tombs. An expert on necromantic texts, she has regular communication
with the spirit realm.
HD 1080p & fullscreen options
Romance-able NPCs
Quests and puzzles
Point and click exploration
30+ illustrated Events
Interactive & animated Scenes
Fully voiced main characters
CG Gallery
Replay Gallery
Extras and secrets
Original Soundtrack and audio
Steam Achievements
Planned DLC updates and additions
OS:

 

Microsoft Windows 7 / 8 / 10
Processor:

 

Intel Pentium 4 2.00GHz
Memory:

 

1 GB RAM
Graphics:

 

NVIDIA GeForce 1060
Storage:

 

1 GB available space